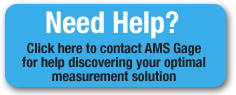 About Us
Applied Measurement Solutions is a full-line representative organization that handles only the finest capital equipment manufacturers. We bring together products and services that are the best in their class. A spirit of partnership and cooperation is at the heart of our organization and can be found in all aspects of our work.
Call or e-mail now for a no-obligation application analysis. Using our expertise in Metrology, Automation, and Process Control, we'll work with you to find the right measurement solutions. We look forward to hearing from you!
Thank you for visiting our website.